AUTOMOVIT, Cars Shipping Management System
Web Applications
"Cars Shipping Management" system, mainly used by Used Cars Trading companies to manage, handle, track, and control every factor associated with the vehicle journey. From its first step, when they purchase the vehicle from American Auctions to the final step, where it's delivered to the client, passing by all other stages like dispatching, towing, warehousing, container loading, marine shipping, destination arrivals, clearance, and customs.
High Efficiency And Performance
With up to 90% of system operations being automated and accomplished in the background with nearly zero human interactions, the errors within our software are almost none. If this occurs, it will be due to a human mistake in a manual-only operation. Our Significant software includes an integrated chartered accounting system covering all financial operations within your company.
Maximum Automation Process
Everything you need to manage your business is covered, for example:
Automatic late payments & storage fees calculation within Copart, IAAI, warehouses, or even within your local yard
Predefined shipping & towing lists based on auction locations and destination ports
Special VIP & single consignee price lists are applied automatically to all booking and container vehicles
Predefined fixed prices for each client
Predefined different price lists according to different rules
Issuing invoices automatically based on each vehicle auction, location, destination, and customer-assigned price list
Receive bulk payments to fulfill and pay tens of invoices within a click
Additionally, with hundreds of features that make our software out-stands among others.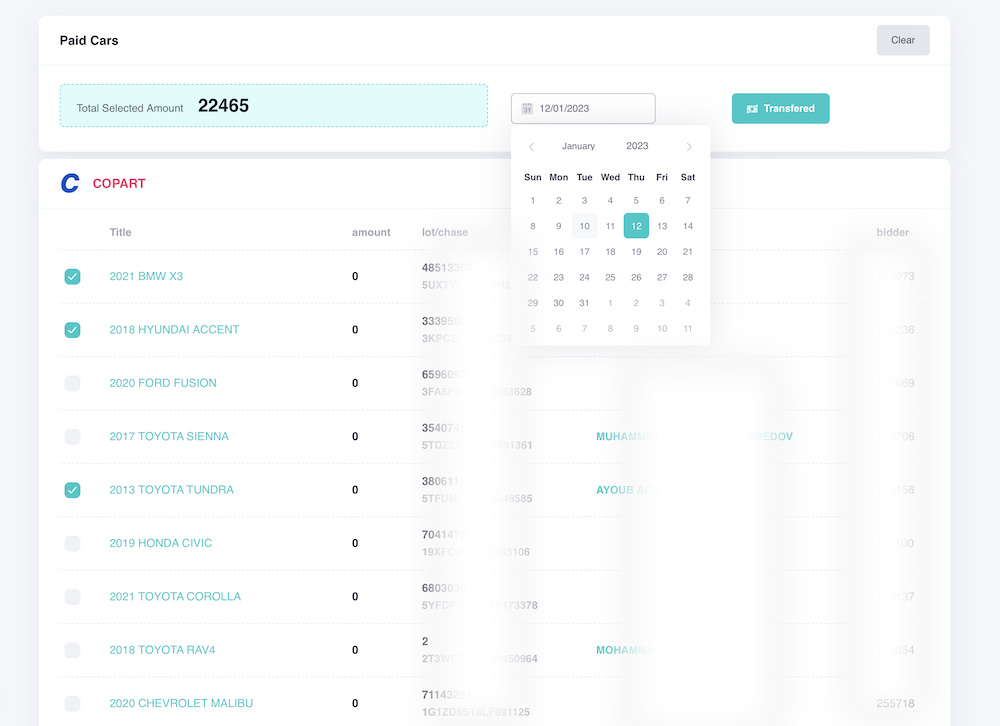 Customer Zone & Mobile Apps
Our software will save you at least (3) employees' salaries within different departments annually, around $15,000 - $25,000. Did we mention that it comes with a separate backend called: Customer Zone? For your customers' convenience to stay informed about all their vehicles inventory, and their accounting invoices, paid amounts, and outstanding payments, with fully detailed reports? Are we done yet? Not even close, our software comes with a client's mobile application for iOS & Android, shipped with all the features included in the Customers Zone. Your customers will be updated instantly about each vehicle's movement and can inquire about it from within the app using our Offline Messaging system integrated within each one separately.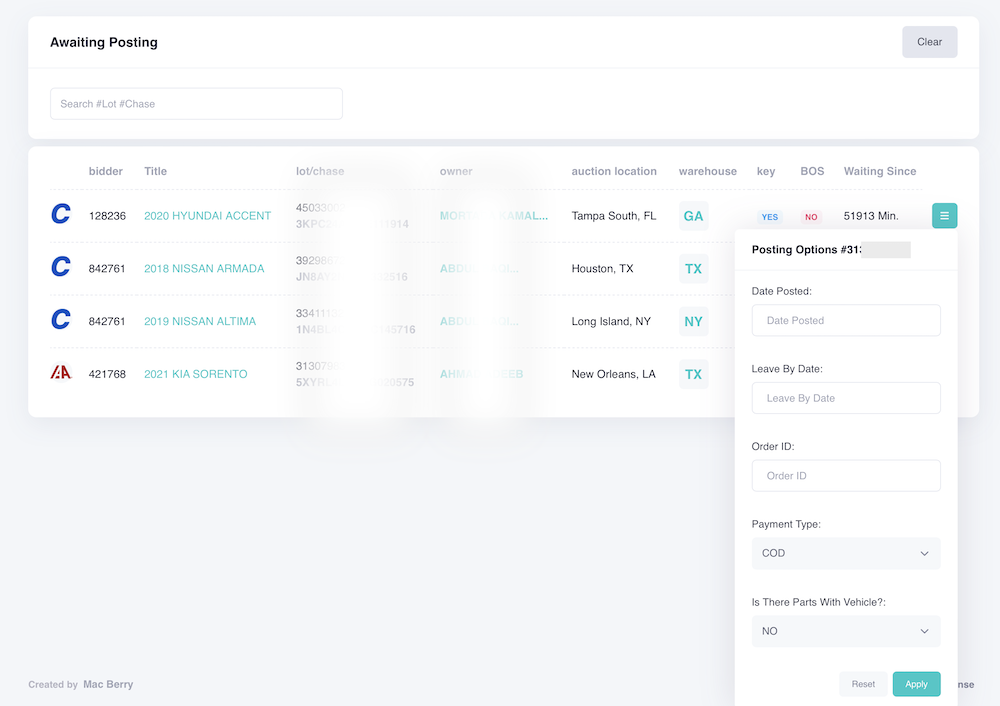 Why AutoMovit?
Our strength points which makes our software stand-out among others:
Security & Encryption:
All Files and Source codes encrypted. Your sensitive data hashed before submitting to the DB.
All communications between the server and the users whether your employees or your customers from any end-user software is fully encrypted and cannot by accessed.
No SQL injection and XSS attacks is possible.
Accounting System:
Your customers will spend 60 sec. only in front of your Cashier's desk (instead of the regular 20-30 min.), All car costs, late payments, and storage fees are computed instantly at the exact moment and even ahead of time to predict all future storage fees according to the present day and time.
Our system creates invoices for each customer, car, and each type of service automatically in the background without any human interference and according to each car's situation and conditions, and each customer's price list.
Central Database:
All our systems work seamlessly together with no difficulties, thanks to our central all-in-one Database, which help us create any new modules on top of our current system with no issues.
Predefined Pricing Lists:
Defining pricing lists for each service, and for each customer makes it easy for the system to create and publish invoices immediately and send instant notification to the customer app.
Technical Support:
We are proud to offer the most reliable after-sale services, including (but not limited to):
A 15-30 min. response to any critical or urgent issues. Direct contact calls our 24/7/365 hotline.
A 3-4 h. response to any mid-size issues. By WhatsApp and email.
A 24-48 h. response to any regular inquiries. By email and our technical support ticketing system.
On-premises technical support visits if needed.
in-house Development:
We create & build all our softwares (web & mobile applications) in-house, by ourselves, we don't outsource our projects, you are dealing directly with the same owners & developers of this system.